In a spectacular display of talent and determination, young Indian shuttlers left their mark on the global badminton stage at the 2023 Badminton Asia Junior Championships held in Chengdu, China. Among the shining stars, Bornil Akash Changmai clinched the gold medal in Boys' Singles U15, Tanvi Sharma seized the silver in Girls' Singles U17, and Jagsher Singh Khangura proudly claimed the bronze in Boys' Singles U15. The event witnessed a historic achievement as Indian players clinched three medals, a testament to their hard work and unwavering dedication.
BS U15: Bornil Akash's Golden Triumph
The highlight of the tournament was Bornil Akash Changmai, a rising star in Indian badminton, who emerged victorious in the Boys Singles Under-15 category. Bornil displayed remarkable skill, agility, and composure to secure the gold medal, cementing his status as one of India's brightest prospects in badminton. His incredible journey to the top of the podium left the nation beaming with pride.
This historic win has rekindled the spirit of Indian badminton, and Bornil's consistent performance throughout the tournament showcased his remarkable form and unwavering dedication. Bornil secured a decisive victory against Fan Hong Xuan of China, winning in straight sets with scores of 21-19, 21-13. He became the second Indian after Siril Verma to win gold, with Verma's last gold win in 2013.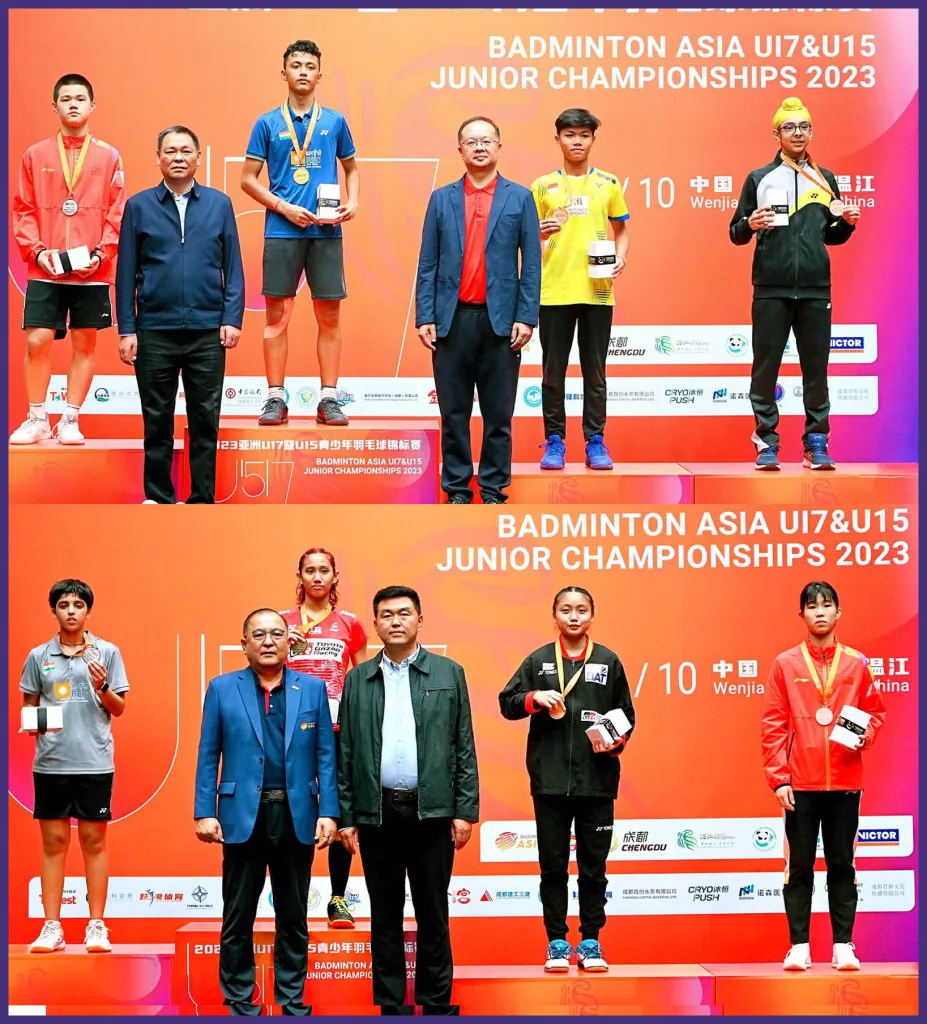 Image credit: BAI
GS U17: Tanvi Sharma's Silver Lining
Another shining star from the Indian contingent was Tanvi Sharma, who demonstrated her exceptional talent and determination by securing the silver medal in the Girls Singles Under-17 category. Tanvi's remarkable performances in the tournament were a testament to her dedication and commitment to the sport. Her achievement underscores the growing prowess of Indian female shuttlers in the international arena. Tanvi Sharma narrowly lost the match to Yataweemin Ketklieng of Thailand in a hard-fought third set, with scores of 21-17, 11-21, 21-19.
BS U15: Jagsher Singh Khangura's Bronze Brilliance
Adding to the glory, Jagsher Singh Khangura displayed his mettle and emerged with the bronze medal in the Boys Singles Under-15 category. Jagsher Singh put up a valiant fight against his compatriot Bornil Akash, but ultimately, Bornil secured the match with a scoreline of 21-16, 21-12. This bronze medal win added another layer of achievement to India's historic campaign.
The success of Bornil Akash Changmai, Tanvi Sharma, and Jagsher Singh Khangura at the Asia Junior Badminton Championship in China demonstrates that Indian badminton is on the rise. These young shuttlers have set an example for future generations of Indian badminton players, showing that with talent, hard work, and determination, they can conquer the world stage.