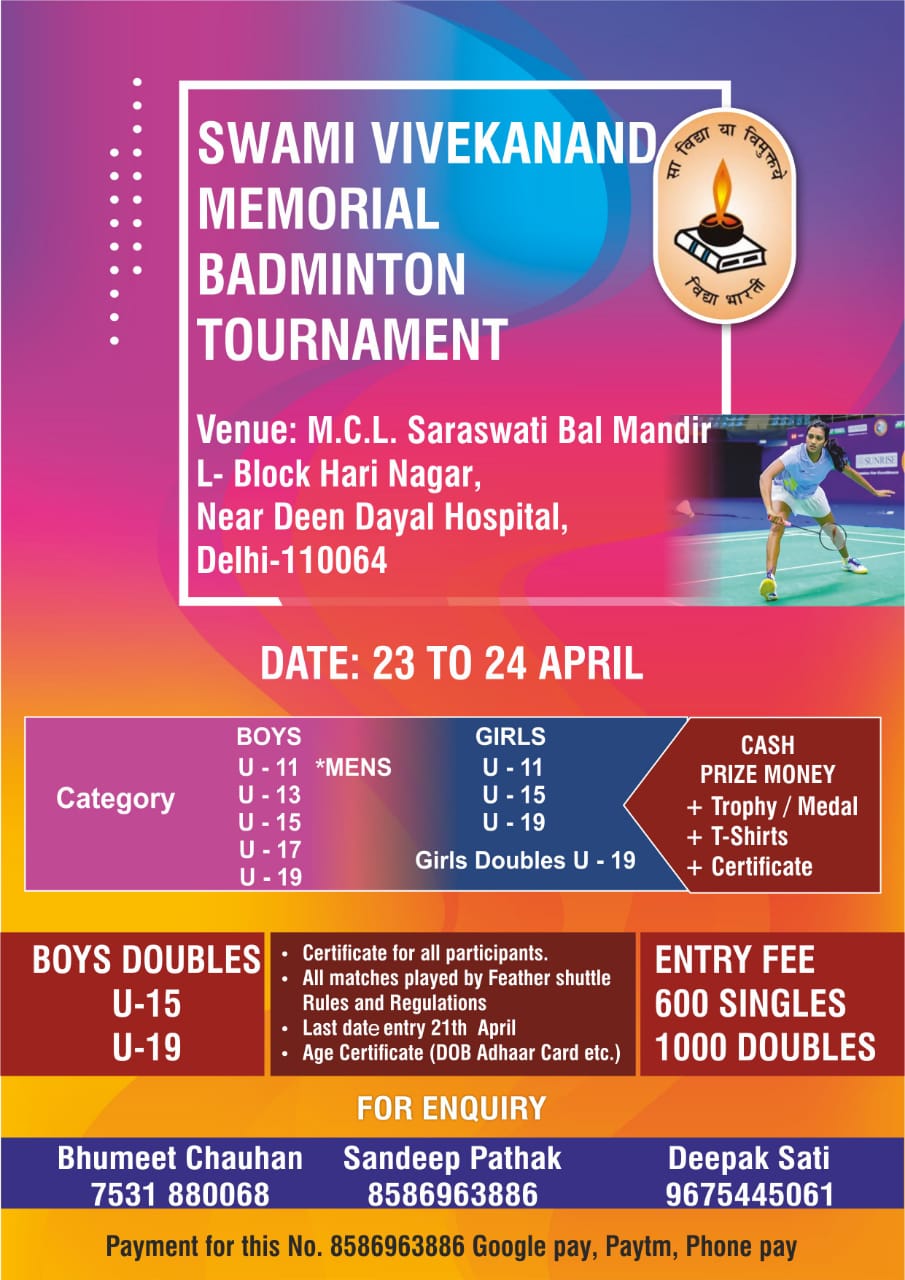 Swami Vivekanand Memorial Badminton Tournament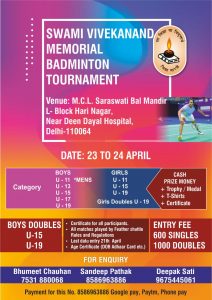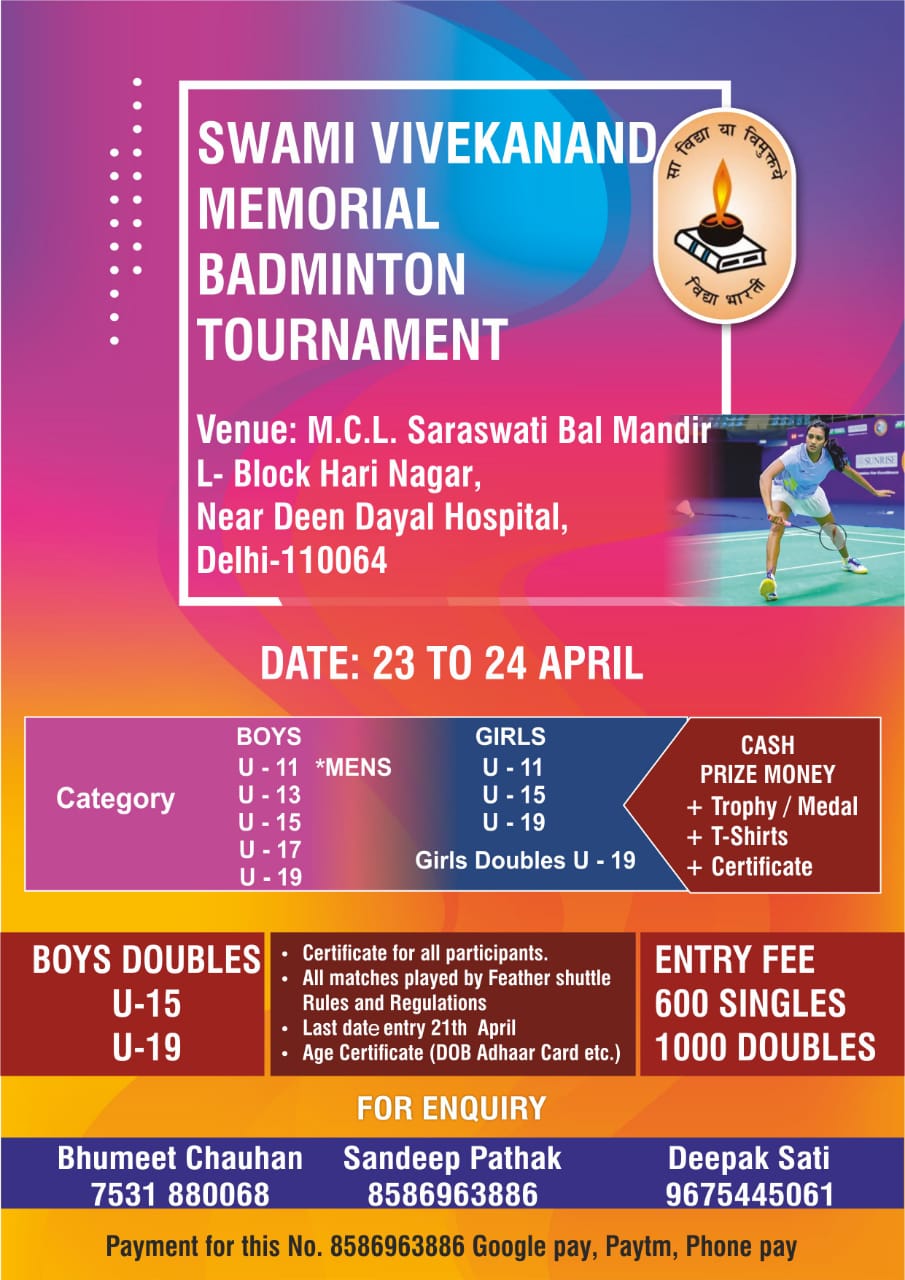 Dear Patrons,
● The tournament matches will be held on 23rd April and 24th April.
● Schedule and Fixtures will be shared by 22ndst April 2022 by 6:00 PM on your WhatsApp number.
Note*: Schedule timings are being made on assumption that all the matches will last for the duration of 20 minutes approximately, there might be a possibility that the match can last longer and it might disturb the whole schedule timings.
So it's a humble request to stay calm and maintain proper decorum if there is such delay in matches.
Any misconduct will directly lead to disqualification and no refund will be entertained in that case.
● Organizer reserves all the rights to make any changes in the schedule if any are allowed and will only be done before the start of the tournament and will be communicated accordingly.
● Bye are given on a random basis and on the basis of last edition results if any considered and players' standings with us*. The organiser has all the rights to replace the dummy entries mentioned in the schedule till the last moment and dummy entries represent bye.
Kindly report 15 minutes before your match timings at the venue.
Note**:
1. Only gum sole non-marking shoes will be allowed on the courts. Kindly make the arrangements accordingly.
2. Players are also requested to take care of their belongings themselves, tournament organisers, referees or venue staff will not be responsible for any loss/theft of any item at the time of the event.
3. *We will check the age proof before the start of the tournament at the time of registration. So please bring your 2 valid id-proofs (Valid Id Proofs can be Aadhar Card, Birth Certificate, in original hardcopy.*
4. If a player is found below age then he/she will be disqualified and entry fees will not be refunded.
Note:** Players can change their partner name and entry can also be changed by the organiser if any match has not happened till that change.
*Covid Instruction & Precautions:*
1. Aarogya Setu App is mandatory.
2. Maintaining social distance and wearing mask is one's responsibility. Please cooperate with the organising staff.
3. We request you to carry your own pocket sanitiser with you.
4. Carry your own mask.
5. Maintain social distancing at the venue.
The location and address:
M.C.L SARASWATI BAL MANDIR
L- Block Hari Nagar,
Near Deen Dayal Hospital, Delhi – 110064
Regards,
Team MCL
9675445061 8586963886
7531880068
****************************************************
(Please subscribe email notification for upcoming North India Badminton Tournaments. Click here to Subscribe)
**********************************************
Disclaimer: These events are only for general information purpose. Please contact to organizers before join or departure to their venue. It is the responsibility of users/players to know about exact venue or schedule by contacting to organizers. Badmintonpb.com is  not responsible for any delay/postponed or change of rules/ instructions of tournament by organizers.