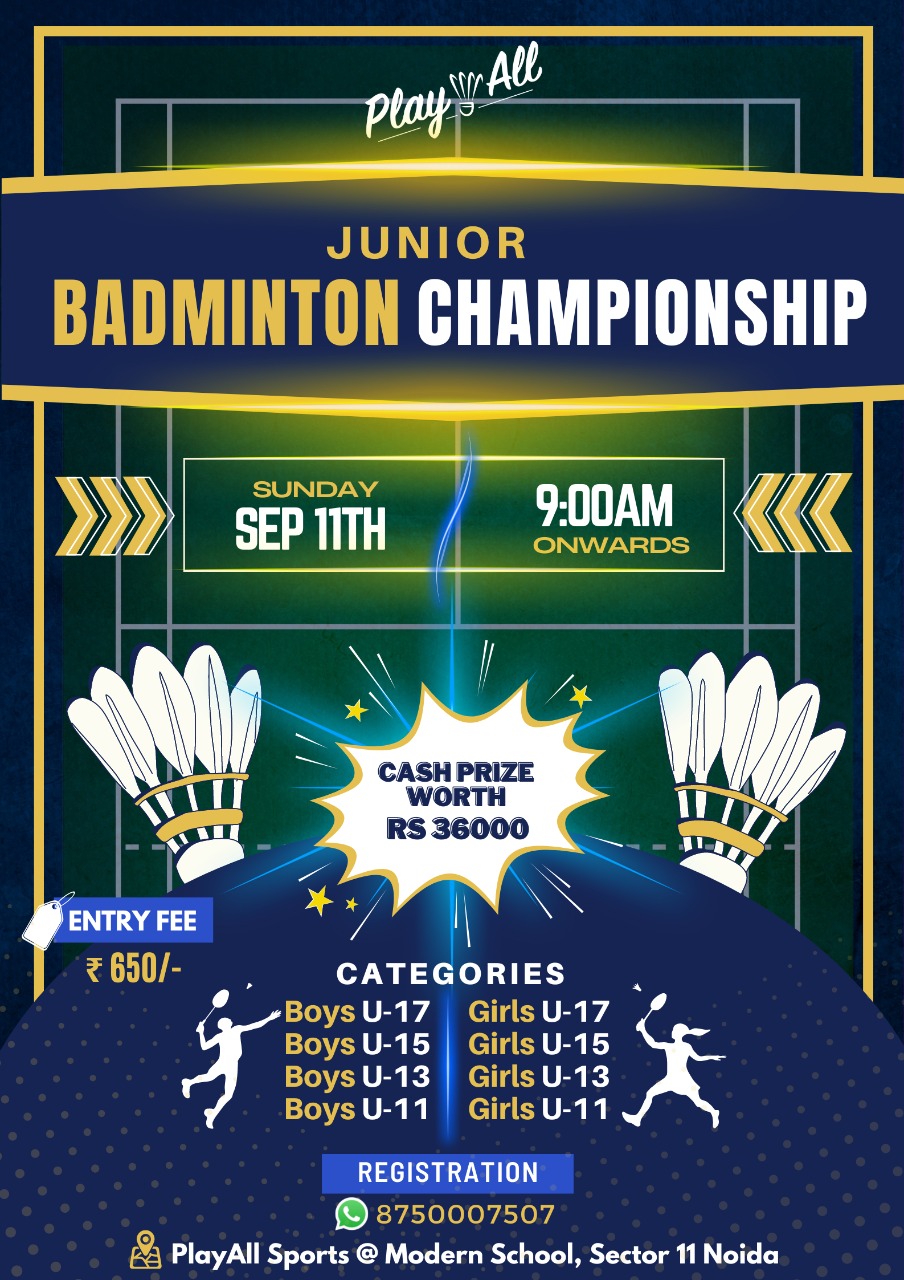 PlayAll Junior Badminton Championship
Introducing PlayAll Junior Badminton Championship
A badminton tournament unlike any, so come experience badminton sentiments and excitement with our Badminton tournament!
When? 11th September
Where? PlayAll Sports @Modern School, Sector 11, Noida
Location: https://g.co/kgs/27aBx9
Categories
▶️ U-17 (Boys/Girls) – Born on or after January 1, 2006
▶️ U-15 (Boys/Girls) – Born on or after January 1, 2008
▶️ U-13 (Boys/Girls) – Born on or after January 1, 2010
▶️ U-11 (Boys/Girls) – Born on or after January 1, 2012
Please carry Aadhaar/age proof certificate for physical verification.
Format : Knockout Matches – Best of 3
Feather shuttle to be used in all the categories.
Other attractions : Refreshments and Participation certificates to all the participants.
Entry Fees : Rs. 650/-
Awards & Prizes
Winner : Rs 3000/- + Trophy
Runner Up : Rs 1500/- + Trophy
Note: The above cash prize depends on the minimum number of participants in each category.
Looking forward to your participation and in case of any queries feel free to contact for any clarification.
Laksh – 8750007507
****************************************************
(Please subscribe email notification for upcoming North India Badminton Tournaments. Click here to Subscribe)
*********************************************************
Guru Nanak National College (Boys)
Nakodar
SN Badminton Academy, Rohini, Delhi
Near Royal Garden, Sec.24, Rohini
PlayAll Sports @ Gaur City, Sports Complex, Greater Noida.
Greater Noida
Gurdev Indoor Stadium, Sant Nagar, Sirsa
Sant Nagar, Sirsa (Haryana)
Baddi Indoor Stadium
Baddi (Himachal Pradesh)
Rackonnect-Pinnacle Badminton Arena
Sector 62 A GURUGRAM
Shreyans Club, Near Gaushala Road, Karnal.
Karnal (Haryana)
Surjit Singh Badminton Academy

Disclaimer: These events are only for general information purpose. Please contact to organizers before join or departure to their venue. It is the responsibility of users/players to know about exact venue or schedule by contacting to organizers. Badmintonpb.com is  not responsible for any delay/postponed or change of rules/ instructions of tournament by organizers.